Welcome to KabayanCentral.com
The World's Very First Filipino Webstore (Est.1998)
Over 19 YEARS online!
Tens of thousands of orders served.
---
Bilis, Kabayan! Ikaw na lang ang hinihintay at lalakad na tayo!!!
Click this link to proceed to our RENOVATED webstore:
New KabayanCentral

Order copies of your Philippine birth certificate, marriage certificate or CENOMAR online!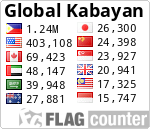 Get the latest release tweets.
Make Us Your Homepage